I'm pleased to share CopperPoint Insurance Companies' 2021 Annual Report with you. It is always an exciting time when we release our annual report as a reflection of the past year and a view of what's to come.
In this year's report, we highlight a year of strategic initiatives and investments, working to fortify the CopperPoint Family of Companies and enabling sustained, organic growth throughout our expanded footprint.
It was another extraordinary year, in even more extraordinary times. In the second year of the pandemic when the economy was just beginning to recover, CopperPoint delivered strong results. In fact, we posted a record new business year since becoming a mutual insurance company. And when we write the business, we generally keep it. Our retention rate in 2021 remained over 83% and continues to improve in 2022.
Here are some financial highlights from 2021:
Total assets increased from $4.97 Billion to $5.1 Billion
Policyholders' Surplus grew 6.1% to $1.56 Billion
All companies were affirmed A (Excellent) ratings by AM Best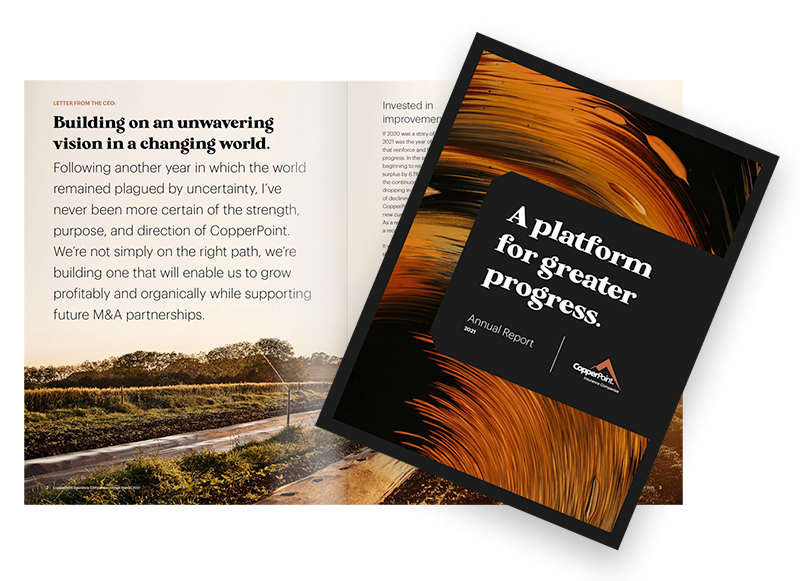 Our limited distribution model serves as the foundation of our success, service delivery and stability. I thank you for your ongoing partnership and for being a part of the CopperPoint family. I hope you enjoy our 2021 Annual Report.
With pride, confidence and deep admiration,

Marc E. Schmittlein
President and CEO