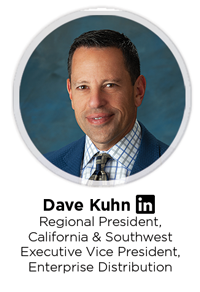 Dear Valued Agency Partner,
I am pleased to announce that Dave Kuhn will assume the position of Regional President for our Southwest Region on an interim basis. Many of you already know and have worked with Dave in his role as EVP, Enterprise Distribution.
Since joining CopperPoint, Dave has played an integral role managing our PacificComp operation and was instrumental in leading the build out of our California Region following the acquisition of Alaska National, where he will also continue to serve as Regional President.
We could not be more excited to have him lead our teams in Arizona, Nevada, Utah, Colorado, and New Mexico.
Exploration of candidates in the Southwest is ongoing and we hope to establish permanency in early 2022. In the meantime, please join me in congratulating Dave on his expanded responsibilities.
Sincerely,