CEO Message - April 15, 2020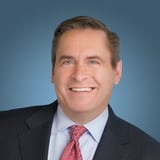 Dear Valued Business Partner:
The CopperPoint Family of Insurance Companies is committed to maintaining open and frequent communications with you, our valued business partners, during the COVID-19 outbreak.
I want to reiterate that the health and well-being of our employees, business partners, customers and communities are our highest priority. We recognize the impact of COVID-19 on everyone, and that some businesses may already be facing immediate consequences.
This is an unprecedented event that can raise questions/concerns from insureds about the financial stability of banks, institutions and their insurance company. CopperPoint is well capitalized, we have a conservative investment portfolio, and we're a company built and run for the long term.
Our team is committed to working closely with you through these trying times, and our business systems are fully operational; please trust with full confidence that your local service, claims, and risk management teams are here and ready when you need us.
Please continue to check our COVID-19 Resource Center where we're constantly updating our FAQs, blogs and sharing information to keep you informed.
If you have specific questions, please contact your Underwriter or Service Team.
Sincerely,
Marc E. Schmittlein
President and CEO
CopperPoint Insurance Companies