COVID-19 and worker safety is a major concern in the current environment. Learn more about the steps the CopperPoint Family of Insurance Companies is taking to help ensure safety and maintain business continuity for our employees, agents and policyholders.
---
A MESSAGE FROM MARC E. SCHMITTLEIN,
COPPERPOINT PRESIDENT & CEO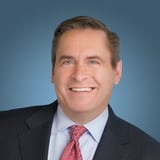 Dear Valued Business Partner:
Throughout the COVID-19 pandemic, our commitment to the health and well-being of our employees, business partners and customers has remained our highest priority.
As we begin 2021, it is a fitting time to reflect on our ongoing commitment to service and safety. All employees in the CopperPoint Family of Insurance Companies are continuing to work remotely, except for a small number of essential workers in our core office locations. Over the past year, we have maintained our normal business operations and remain committed and responsive to your needs. Our goal has and will continue to be to ensure that your local service teams are here and ready when you need us.
As the pandemic continues, it is crucial that we stay vigilant and follow health guidelines and other safety protocols. Our teams continue to follow recommendations from the health experts at the Centers for Disease Control (CDC) and public health officials in each of the states that we serve. You can access our COVID-19 Resource Center links, view FAQs for agents/brokers or policyholders, or read blogs on a variety of COIVD-related topics here.
We are committed to continuing to work with our business partners during this challenging time. We also recommend that agents/brokers and policyholders keep in touch with each other and report any changes in business operations to us in a timely manner. This will allow for appropriate adjustments to coverage.
Thank you for your ongoing understanding and trust in the CopperPoint Family of Insurance Companies.
As always, if you have specific questions, please contact your Underwriter or Service Team. If you are a current policyholder with CopperPoint, Alaska National or PacificComp, please contact your agent or broker or call our Customer Call Center at 602.631.2300.
Sincerely,
Marc E. Schmittlein
President & CEO
CopperPoint Insurance Companies