We are a relationship company.
For nearly 100 years, we have earned a reputation as a caring, responsive company that offers insurance expertise and the highest quality service making lives safer, stronger and more fulfilling. We believe that fostering relationships with our employees is where it all starts.
We recognize the value of our employees to the company's success. When you join CopperPoint, you become part of a family of companies made up of employees with diverse backgrounds and career experiences who are changing what insurance really means to people. Headquartered in Phoenix, Arizona, our companies include CopperPoint and Alaska National across a 10-state western region.
Working here offers much more than just competitive pay. The CopperPoint Employment Experience includes:
Excellent benefits
Wellness and recognition programs
Comprehensive training
Career development services
A Great Place to Work
We provide our employees with a large selection of benefits that help protect employees' health, wealth and well-being. The benefit plans that CopperPoint offers to our full-time employees include:
Competitive compensation and bonus structure
401(k) retirement plan
Comprehensive medical plan options
Optional dental coverage
Wellness programs
Time off program
Paid holidays and much more!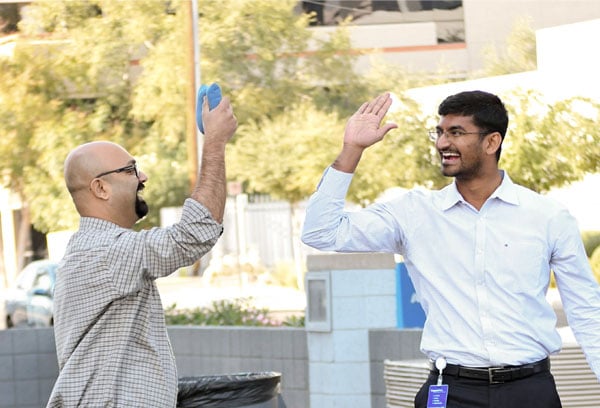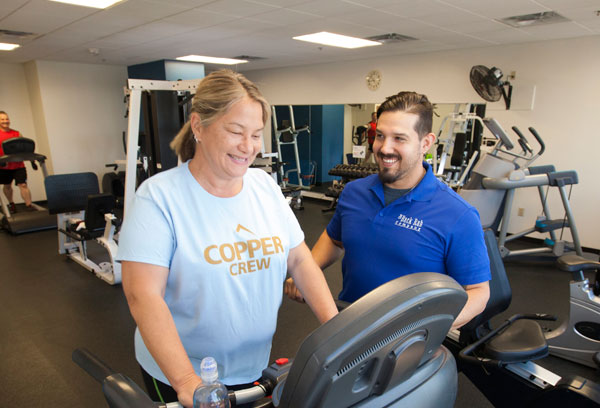 Work/Life Balance
CopperPoint highly values a healthy work/life balance. We encourage employees to take time off when needed, actively participate in the community, further their career with education and take advantage of our Wellness Program. Each employee is provided:
12 paid hours a year to volunteer during work hours.
An opportunity for job-related tuition assistance for certifications, professional designations and degree programs
A robust Wellness Program offering on-site and online health resources tailored to for you.
Our Locations
With offices throughout the western region, we are positive that you will find a location that works for you.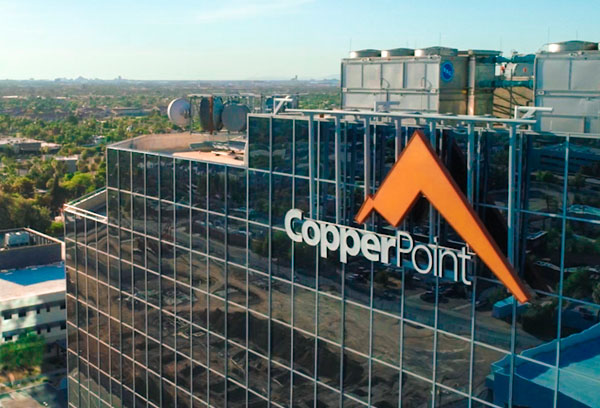 CopperPoint is an equal opportunity employer. All qualified applicants will receive consideration without regard to race, color, sex, religion, age, national origin, disability, veteran status, sexual orientation, gender identity or expression, marital status, ancestry or citizenship status, genetic information, pregnancy status or any other characteristic protected by state, federal or local law. CopperPoint maintains a drug-free workplace.

CopperPoint conducts pre-employment drug and background screening. Employment is subject to and contingent upon satisfactory results.

CopperPoint is committed to protecting your personal information. This Candidate Data Privacy Policy informs you of how CopperPoint will use and protect the personal information we receive in connection with the recruitment process.

You must consent to the provisions of this Policy in order to submit or make available your Candidate Data to CopperPoint. Providing your personal information is entirely voluntary. However, if you do not consent, or if you decline to submit or make available your Candidate Data, this may limit our ability to consider your candidacy. By making your Candidate Data available, as defined below, you confirm that you have reviewed this Policy and agree that CopperPoint may process your Candidate Data in accordance with this Policy.

You are responsible for the Candidate Data that you provide to CopperPoint and must ensure that it is legal, truthful, accurate and not misleading in any way. You also must ensure that the information you provide does not contain information that is inappropriate, defamatory, infringing on any rights of a third party or otherwise legally actionable by a third party. Before submitting information to CopperPoint related to another person (such as the name and contact information of an employment reference or prior manager), you must ensure that you have given any notice and obtained any required consent.

CopperPoint will process your Candidate Data in accordance with this Policy. This Policy does not create or form part of any employment contract with CopperPoint.

If you are a California resident, in addition to or in lieu of portions of what appear below, your rights are covered under our California Privacy Policy (CCPA). Please refer to the following California Privacy Notice for further information applicable to California residents. CCPA Privacy Notice here.

Types of Information Covered by this Policy

This section applies to non-California residents. Please refer to the California Privacy Policy link for California-specific information on this subject. Your "Candidate Data" is identifiable information that you or others make available to CopperPoint in connection with the recruiting process. CopperPoint may collect Candidate Data directly from you or from third parties, such as in connection with a background/employment check or employment reference, subject to your consent where required by law. Candidate Data may include information about your candidate status, work history, job details, education, employer feedback, contact information, previous addresses or names, other information provided by you (e.g., a cover letter, CV or resume), references and criminal history where permitted by law.

"Sensitive Candidate Data" is Candidate Data about your nationality, citizenship, race, ethnic origin, compensation, or criminal history. CopperPoint does not request or consider information about your religion, sexual life or political opinions in connection with recruiting. To the extent the personal information that you provide contains details of your racial or ethnic origin, political opinions or beliefs, religious beliefs, membership in a trade union or political party, physical or mental health or condition, disability, sexual life, commission (or alleged commission) of an offense or related proceedings, job evaluations or educational records, you expressly consent to CopperPoint handling such details for the purposes of your job application.

Processing and Use of Candidate Data

This section applies to non-California residents. Please refer to the California Privacy Policy link for California-specific information on this subject. CopperPoint processes Candidate Data for legitimate human resources and business administration purposes. These purposes include identifying and evaluating candidates for CopperPoint positions; recordkeeping related to the hiring process; analyzing the hiring process; and conducting background and reference checks, as permitted by law. In addition, your Candidate Data may be used to comply with CopperPoint's legal, regulatory and corporate governance requirements. "Processing" refers to action performed on Candidate Data, such as collecting, recording, organizing, storing, transferring, modifying, using, disclosing, or deleting such data.

Retention of Candidate Data

In addition to using your Candidate Data for the position for which you have applied, CopperPoint may retain and use your Candidate Data to consider you for other positions. If you do not want to be considered for other positions or would like to have your Candidate Data removed, you may contact CopperPoint as described under "Contacting Us" below. Unless we are required to retain your Candidate Data for legal reasons or in connection with employment as described above, we may delete your Candidate Data at any time, for any reason. If you become an employee of CopperPoint, your Candidate Data will become part of your file and be used for other employment-related purposes, consistent with CopperPoint's employee data policies.

Sharing Candidate Data with Third Parties

This section applies to non-California residents. Please refer to the California Privacy Policy link for California-specific information on this subject. CopperPoint may transfer Candidate Data to external third-party providers that perform services for CopperPoint, such as human resources service providers. CopperPoint requires service providers that process Candidate Data to undertake security measures consistent with the protections described in this Policy. CopperPoint also may be required to disclose certain Candidate Data to other third parties as required by law, to protect CopperPoint's legal rights, or when the health or safety of a candidate or other individual may be endangered.

Your Sensitive Candidate Data

This section applies to non-California residents. Please refer to the California Privacy Policy link for California-specific information on this subject. CopperPoint may perform background and criminal checks in connection with your application for employment, where permitted by law, and may process other Sensitive Candidate Data, such as citizenship or nationality information or health information, if relevant for a position and permitted by law. If CopperPoint intends to collect Sensitive Personal Data from third parties, you will be given notice and an opportunity to consent. If you have a disability and would like CopperPoint to consider a job accommodation or adjustment, you may provide that information during the recruitment process. To the extent you make such information available to CopperPoint, you consent to CopperPoint processing such information as part of the recruitment process, in accordance with this Policy.

Data Security

CopperPoint takes technical and organizational measures designed to protect the integrity, confidentiality, security and availability of your Candidate Data, and to comply with applicable legal requirements for information security. CopperPoint limits access to internal systems that hold Candidate Data to individuals who need access for legitimate business purposes.

Access to Your Information

CopperPoint will give you access to the Candidate Data that CopperPoint holds to the extent required by law. You may request correction or deletion of your Candidate Data, except where retention is required by law or in the context of a legal dispute. If access, correction or deletion is denied, CopperPoint will communicate the reason for the denial to you.

Changes to this Policy

CopperPoint reserves the right to modify this Policy, and any changes will be effective immediately upon posting to CopperPoint websites. If you submit additional Candidate Data or ask to be considered for a position with CopperPoint after the effective date of a Policy change, your Candidate Data will be handled in accordance with the Policy in effect at that time. You can determine when this Policy was last revised by referring to the "Revised" section at the bottom of the Policy.

Contacting Us

This section applies to non-California residents. Please refer to the California Privacy Policy link for California-specific information on this subject. You may withdraw your consent to the processing of your Candidate Data or submit inquiries, complaints and/or objections to the processing of your Candidate Data by sending a request in writing to CopperPoint Insurance Companies, Human Resources, 3030 N. 3rd St., Phoenix, AZ 85012, or by email to HR@copperpoint.com. The processes described in this Policy are in addition to any other remedies and/or dispute resolution processes that are available under applicable law.